Location
We're located in Historical Downtown
Chaska Minnesota.
Here is a map.

The map will open in a new window.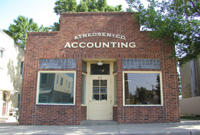 No Tax Worries
We make accounting and tax reporting easier for the business owner.
Daily tasks and responsibilities should be simple and worry free, providing more time for you to run your business.
We make sure that financial statements are timely.
We provide information to aid you in your business decisions.
Save You Money
We use state of the art computers and software to reduce costs and improve accuracy.
We'll Stay Up All Night!
We pride ourselves on quick turnaround, while maintaining a high level of precision and compliance.
Simple & Stress Free
Atneosen & Co. was founded on the belief that accounting should be simple and stress free.